Your website is the virtual storefront for your business. Much like your brick-and-mortar location, it helps create a first impression that can attract customers to your business—or drive them away if it has an unprofessional appearance. When you partner with Anderson Marketing Group, you'll see that a quality website design doesn't have to be time-consuming or expensive.
As a business owner, your time is valuable. That means many of today's DIY website design solutions simply won't work for you. Anderson Marketing Group has a team of professional designers, content creators, and digital marketing specialists to get your business online with website designs that reflect the personality and mission of your company. Your business will have an attractive online presence for potential customers in Saskatoon, Saskatchewan, and the surrounding areas of Canada.
See some examples of our work.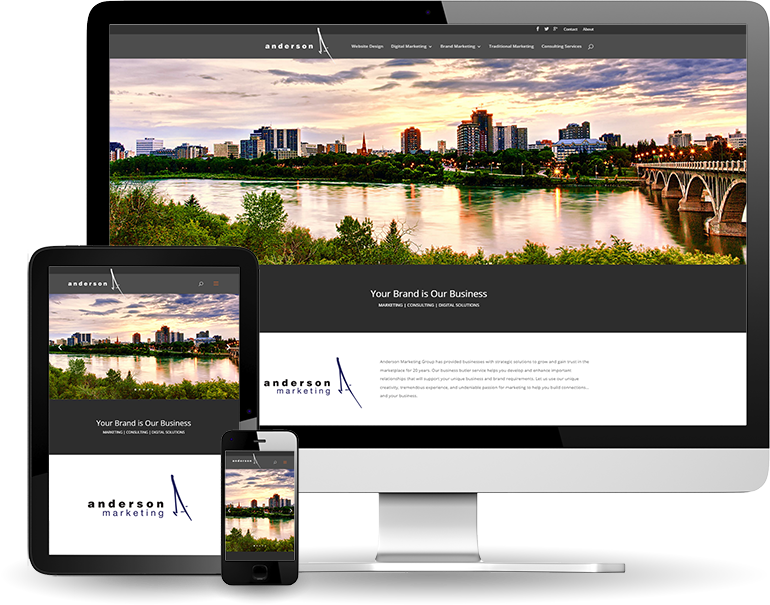 Basic Content Websites
Our basic content websites help you establish an affordable online presence for your business. These one-page sites allow you to post vital information about your company, including services, location, and contact information.
Custom Website Design & Development
Our custom website designs give you the flexibility to showcase everything about your business. With enhanced features for both appearance and content, these multi-page websites allow you to tell consumers more about what you do. Add custom forms, videos, image galleries, e-commerce shopping carts, dot-com email addresses, and other additions. Plus, receive traffic reporting so you can track customer behavior and conversion.
All of our website design services include professional design, mobile optimization, and routine updates to content, keyword strategies, and graphics…all for one monthly subscription fee.
If a consumer can't find you online, they will find your competitors. Talk to us about how we can help you build a 24/7 online presence for your business.
Want more details regarding our website services?